What is an adventure road bike?
A road bike (according to various sources on the web within my reach like the many, many dictionaries) is nothing but a bicycle for use on paved roads as opposed to rough terrain or racing tracks, especially one designed for competitive cycling. This means that they have to pass certain legal criteria/requirement to be accepted for road use. (Much like road-legal cars and road illegal cars)
They are made for riding on public roads with ease. And you'll be able to tell a road bike when you see one. As they're often characterized by their sleek and slender appearance, with lowered, curved handlebars, they also have much narrower wheels and tires that you would call "skinny". Many a time, they have a rather small seat and lots of cogs, or gears, on the back wheel.
Furthermore, they are designed to be ridden quickly on smooth pavement. They can be used for on-road racing because of their sleek, skinny tyres and "drop" handlebars. They are usually lower in weight than most varieties of bicycles. Since most road bikes are incapable of bearing heavy loads, they are unsuitable for commuting or touring.
An adventure road bike, on the other hand, is a relatively new type of bicycle. They are the most flexible sub-category of road bike and are also known as all-road bikes, any-road bikes, or dirt bikes. They have dropped handlebars and the ability to use wider tyres, similar to cyclocross bikes (which are a special form of road bike built to be raced on a mixed surface course with a drop handlebar like normal road bikes, but the tyres are a little wider for more off-road traction, and they have a different style of brake that helps to avoid mud build-up in the frame.). However, the frame geometry is longer and more upright than on a cyclocross bike, making these bikes more suitable for long days in the saddle, light touring, and commuting.
Is Vitus a good brand?
Wiggle's own-brands, DHB, Vitus, Nukeproof, Lifeline, and Prime Wheels, ideally represent the company's passion for sport and offering the best. Wiggle employees design, research, and produce these items in-house. In terms of quality and price, each brand remains the market leader.
Vitus is a French bicycle manufacturer best known for its steel bike frame tubing and frames made of aluminium tubes bonded to aluminium lugs, a design process that the company pioneered in the late 1970s.
They are a direct-to-consumer brand that is only available at Chain Reaction Cycles and Wiggle, allowing them to provide the best value possible. The business has been at the forefront of new developments in bike design since the 1970s, and it now offers a wide range of bikes for all disciplines.
Fun fact: This was Sean Kelly's favourite bike manufacturer and Vitus wears this as a badge of honour to date. Given he became synonymous with the Vitus brand through his domination of the classics and Grand Tour win at the Vuelta Espania on board the 979, becoming the world's No. 1 ranked cyclist of the era.
Important things to keep in mind when getting a road bike
You're making a significant investment, and the bike you chose could be your companion for several years – so make the right choice.
Ride-along
You can get some pretty good offers from direct sellers, but you rarely get to test ride them because they aren't always available in brick-and-mortar bike shops. However, frame geometry, material, and construction all make a significant difference in the ride quality of a bike. Get down to a store where you can test ride a bike or check for a 'demo-day' near you whenever possible.
Don't spend all your money in one place
Most designed bikes' wheels are perfectly adequate for training and general cycling, but racers may want to upgrade – so if efficiency is your goal, you will want to factor an upgrade into your budget. Most bikes are delivered without pedals, allowing you to choose your preferred choice. The saddle, stem, and handlebars are often frequently swapped.
Only buy the bike that is your size.
This seems pretty self-explanatory but you'd be surprised at the number of people who get a bike that is a size or two too small or too big and then suffer with it for years. No matter how good the deal, don't buy a bike that's too big or too small just because it's on sale. Ideally, purchase your bike from a store where they will measure you and assist you in changing any components (stem/handlebars/saddle) required for a comfortable ride.
Buying Guide
So, you've decided on a comfortable endurance bike with an aluminium frame or an aero road bike with a carbon frame. You'll eventually choose a brand and a model family (hopefully after some furious googling and a test ride or two). The majority of bike models are available at a range of price points. In general, the frame remains virtually unchanged, and the variations between the price ladder rungs apply to the groupset and other elements.
Shimano groupsets are standard on the vast majority of built bikes, with the hierarchy beginning with Shimano Claris and ending with Dura-Ace. The more you pay, the less likely it is that you will need to upgrade later.
MSRP: £2299.99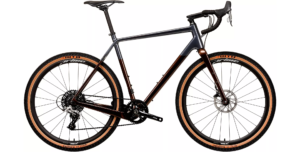 Are you looking for a reliable and simple-to-use adventure road bike? The Vitus Substance CRX Adventure Road Bike offers a variety of riding options that are both flexible and simple to use. The carbon-built model is compatible with both 700c and 650b wheels, giving it a high degree of flexibility. While the lightweight and durable carbon frame allows for excellent mobility. All of this adds up to a great bike for anyone looking for a lightweight bike that is simple to set up.
The Vitus Substance CRX is also suitable for an active lifestyle. Equipped with hydraulic disc brakes, a roller bearing clutch rear mech, and a chainset that is ideal for all-weather stopping power and reliable performance in the most difficult terrains, all while having no maintenance. Explore various terrains, attempt steep climbs, or simply relax and enjoy the journey. The Vitus Substance CRX is appropriate for any case.
Frame and Fork
The new carbon-built frame is made specifically from carbon UD T700 for comfort, reliability, and power. The weight of this bike is scarcely noticeable, and it is easy to manage. Furthermore, the lightweight frame gives a significant advantage in terms of speed and… This bike rides on Prime Kanza Carbon 650b wheels with WTB Venture TCS tyres. This wheel and tyre combination allows the wheels to have a big contract with the ground, which offers excellent stability, a strong grip on the ground, and defuses bumps, providing comfort on your ride.
The material used for the frame has a significant impact on the overall ride quality of a bike. Carbon, aluminium, steel, and titanium are the four most common materials.
By far the lightest and most compliant (comfortable) material is high-quality carbon. Carbon can also be moulded into any form, making it the most common material for aero bikes. Carbon's drawback is that it can be destroyed in a collision and that damage isn't always apparent.
Aluminium is usually alloyed with another metal (such as silicon or magnesium). The metal composition differs between alloy frames and will be altered based on the degree of comfort and stiffness desired. Lighter frames will be butted – preferably triple-butted – which means the material will be thinner where possible to save weight and stronger where stiffness is needed.
Good aluminium can be lighter than bad carbon, but it is usually heavier. However, it is usually heavier, making it a common option among racers who want to be able to rely on their bike after a crash.
Most alloy bikes will have a carbon fork and seat post, which will reduce the weight of the bike and provide more compliance, dampening out the bumps along the way. Steel is a more conventional material. It's heavier in general, but it's popular for its springy ride quality, and it's pretty durable in terms of longevity. Titanium, on the other hand, is a tough metal that is much lighter than both steel and aluminium, the only drawback with it is that it is expensive so titanium bikes cost more to make and ultimately more to buy for the end-user.
Given the bike's description, you'd think a light carbon-built bike would be flimsy and unsteady, but that's not the case with the Substance CRX. Since this is a really durable bike that is capable of off-road, lightweight, and a lot of fun. Considering its stiffness, the Substance CRX doesn't look massively overbuilt; true, the down tube is quite a boxy design but not massively so.
The front end has a tapered head tube which adds a bit of girth and you do get a fairly chunky bottom bracket area, though Vitus has gone down the threaded route, which will please many. The whole frame is made from Toray T700 carbon fibre and so is the fork, which includes a carbon steerer.
The stealthy grey and black paint job with yellow highlights give it a classy appearance while concealing all of the shapes and junctions between the tubes. I believe it flows well.
Vitus has made the Substance CRX compliant with both 650B and 700C wheels, and, like many other manufacturers, it has lowered the drive-side chainstay to provide clearance between the wider tyres and the chainrings. The clearance as well is very impressive, with the regular 47mm wide tyres leaving plenty of space for full mudguards.
This model is only available to buy in a 1x chainring setup but if you want to swap that out for a double ring combination the frame is drilled for a front mech and the adaptor is included. Internal cable routing is also there, which is good to see. There are also numerous mounts, including mudguards, but also racks front and rear, as well as additional bottle mounts under the down tube.
When it comes to geometry, the Vitus is a little on the aggressive side for this sort of bike, and in terms of stack versus reach dimensions, it actually resembles a road-oriented endurance bike. However, features such as the extended wheelbase and 50mm fork rake make it a little more subdued, which is why it is such an adaptable ride.
The bike's position gives it quite the advantage because you could ride hard in the drops or just sit up and enjoy the scenery, and it would feel right, and rather comfortable.
With these super-cool tyres and smooth gears, the carbon rims are quite quiet, and the wheelset is very dependable. However, if you need more traction on very gnarly rides with gears that run like clockwork, we do however, suggest changing the tyres if you feel the need to.
Technical Specifications:
Frame: Substance Carbon UD T700 Internal cable routing, 142 x 12mm rear end, mud-guard mounts, rack mounts, 3 bottle cage mounts.
Fork: UD Carbon Full Carbon tapered steerer, 100 x 12mm, mud-guard mounts. Utility mounts (bottle cage or rack)
Headset: FSA NO.42, tapered 1 1/8″- 1 1/2″, 45°/45° upper bearing 41.8 / 28.6, lower bearing 36 / 45
Bottom Bracket: SRAM BB-GXP-A1 Road 68mm, BSA Threaded
Handlebar: Vitus 6061 16° Flared Adventure, 128mm drop x 77mm reach
Stem: Vitus 6061 Aluminium, 3D Forged, bar bore 31.8mm, +/- 7 degrees
Bar Tape: Vitus EVA cork
Wheelset: Prime Kanza Carbon 650b XD Driver, Tubeless tape installed, Tubeless valves supplied
Tyres: WTB Venture 650b x 47 TCS Road Plus, Tan Sidewall, Dual DNA Compound, Lightweight Tubeless Casing, TCS Aramid Bead
Chain: KMC X11 116 Links 11-Speed
Crank set: SRAM S-Series 350 X-SYNC 40T
Brakes: SRAM Rival HRD
Rotors: Centreline RT 160mm 6-Bolt
Rear Derailleur: SRAM Rival, long cage
Shifter: SRAM Rival HRD
Cassette: SRAM 1150 11-42T, 11-Speed
Saddle: Vitus
Seat Post: Vitus 6061 Aluminium, 12mm offset
Seat clamp: Vitus, 30mm
Axles: Vitus 12mm Thru-Axle
Weight: 9.18kg (large)
Colour: Copper and Grey
Frame Size: S
Wheel Size: 650b
Gender: Unisex
Speed: 11 Speed
Material: Carbon
Verdict
Pros: great value, light frame and wheels, very capable off-road, fast smooth ride, tyre clearance, luggage bottle and fender mounts, zero road drag, quiet on the roads, responsive gearing on pinch climbs
Cons: more off-road focused