Road bike riding is a good exercise that aids in keeping you active and also provides a great way of catching up with friends and family. It is also a unique technique for staying fit at any particular age. In addition, road bikes possess the ability to meet the desires of competitive and adventure riders.
When purchasing a new road bike, many options can be intimidating. To aid you in making a knowledgeable decision, we have created a buyers' guide that sorts all the details and helps you buy that perfect road bike that suits you. 
To begin with, let's consider some questions:
What type of cycling are you currently doing?

What kind of cycling in the future do you plan to do?

What is your riding ability?

What's your Bike budget? 
The questions above will guide you on which type of bike you require. 
For example, if you usually ride in a flat area with no hills, a bike with aerodynamic qualities or more comfort is what you would be mainly going for rather than a lightweight climbing bike. If you're searching for a commuter bike for your work or a recreational bike for riding during the weekends, you can check for a not that expensive bike.
What is a Road Bike
These are bikes engineered to move as fast and far on paved surfaces and are also referred to as racing bikes or 10-speed. You will recognize a road bike when you bump into one; they have some common features:
Narrow wheels, high-pressure 100 psi or higher, and polished to reduce rolling resistance.

Bent(dropped) handlebar that positions the rider in a lean way. This decreases the forward upright cross-sectional area, thus lowering the air resistance.

They usually use derailleur gears: but, there are other varieties available. The single-speed and the fixed-gear do exist.

Road bikes are either equipped with rim brakes or disc brakes(though there might be a technical contrast, the race bikes' caliperbrakes are shorter and broad pads than MTB cantilevers).

The road bike is lightweight.
Today, the race bike market is highly saturated as there are different race bikes to choose from; each type is slightly different or more expounded on its purpose than ordinary race bikes machines. Depending on its purpose or the cycling type each race bike is engineered for, it may contain different materials, geometry, and bike setup.
Let us take a detailed focus on the different types of race bikes:
Type of Road Bikes
Aero Road Bike

Endurance Road Bike

Race Road Bike

Touring

Cyclocross Road Bikes 

Gravel Road Bikes

Commute Road Bikes

Time Trialing(TT)/ Triathlon Bike
Aero Road Bikes
Aero race bikes are enhanced to level up on wind resistance by having more aerodynamically designed tubes for the frame, wheels, handlebars, and other components that are made specifically to cut through the wind. Aero bikes have a big similarity with the "racing" type of road bike. However, the Aero bikes are tested with the wind tunnel so as to improve the potential speed with less effort. The aero road bike is faster than regular racing bikes, making them a good choice for racers due to their aero features. 
Even though most of these bikes are made of carbon fiber(lightweight), they have additional strong materials required for the aerodynamic design, making the bike have more weight than the normal racing bike. Aero racing bikes are not the best choice for cycling that is heavy on climbing. 
Endurance/Sportive Road Bikes
These Road Bikes are similar to racing bikes as they are lightweight but can easily cut corners due to their lowered stance. The Endurance road bike has a more upright posture that makes the rider more comfortable cycling. The main aim of this design is to focus on comfort in long riding than speed.
The material used in making the endurance road bike is similar to other racing bikes but is enhanced to give more comfort to the rider. Its frame is carbon, steel, and even aluminium, while its wheels are carbon fiber(lightweight) and alloy. However, the wheels have no power of being aerodynamic. Endurance road bikes are equipped with the best disc brakes, although the V-brakes are still available. 
Pro
They ensure comfort, making long-distance more enjoyable.

They are perfect "one-for-all" road bikes.

They are a good choice for first road bikes.
Cons
They are not firm on high speeds and quick descents.
Race Road Bikes
Race road bikes are a perfect type of road bike. It is designed to be light, fast, and long-lasting to meet the need for speed. It is made of carbon fiber in order to have a small weight and allow the best vibration cutting. The Race road bikes have lightweight wheels and skinny tires that are designed for diminishing rolling resistance. It also contains a narrow saddle, equitably designed geometry and setup, and a wide gearing range. 
Racing bikes are an excellent option for riders who love to ride on pavements in a professional style. It has aerodynamic advantages so that you can ride as fast as you can with less resistance.
Pro
They are lightweight.

They are fast.

They are perfect for racing/competing.
Cons
They do not offer comfort for recreational riders.
Touring Road Bikes
The touring road bikes were the first "carry it with you bikes." They are purposely made to carry a load, and they are typically stronger than ordinary road bikes. They have a higher-spoke-count wheel for improved strength and durability. They are more comfortable, they offer a large saddle, equipped with a comfort-equipped geometry, and they set up is more vertical riding position with a rack, mounts, and fenders to aid you in transporting all form of bags.
Their wide wheels and tires are additional elements to their ability to load-carrying and comfort. Touring bikes are generally heavy, and with the addition of the load, the bike may have a rough gear performance while climbing mountains.
Pros 
They are conducive for both urban and upcountry roads 

They are equipped with rigid and strong frames.

They offer comfortability 
Cons
They are not designed for racing and speed.

They have the extra weight due to their wide wheels and tires.
 Cyclocross Road Bikes
Cyclocross is an "off-season" sport activity where cyclists ride through short courses with various cycling surfaces, obstacles, and terrains. These surfaces may contain mud, sand, and pavements. The landscapes usually have steep hills, water, logs, or jumps, amongst others. All these obstacles require a bike that is purposefully designed to accommodate the sport. A bike's frame can fit in wider tires than the normal, a smaller but better gear range than the standard road bikes, and disc and rim brakes that provide easy slowing and stopping despite the wet and muddy tunnels.
The bike consists of an equitable geometry and setup. This bikes are similar to gravel bikes but have few differences. This is because they are designed for racing. They are equipped with lighter frames and wheels since they are often required to be carried across obstacles. Due to their ability to handle anything, they are a perfect fit for any other type of cycling: including bike packing, touring, commuting, or adventure riding.       
Pros
They are lightweight.

They can handle obstacles. 

They are great performers.
Cons
They are not comfortable commuting.

They are expensive.
Gravel Road Bikes
The gravel road bike is a new type of bike that is a combination of elements from cyclocross bike and the touring bike to a durable road bike. This bike is designed to fit in wider tires, disc brakes, abroad gearing range, a lightweight frame, and simple handling set up to aid in speed. 
The intended purpose of this bike is to comfortably and accurately handle any road surfaces. In short, with the gravel road bike, you can have different tastes of adventure you like. 
The bike contains mounts of the rack, mudguard, and water bottle to aid in light touring. These mounts on the gravel road bikes are the features that differentiate them from their nearly related road bikes: cyclocross bike and the touring bike. 
Pros
They are fit for both backcountry and urban roads

They have strong and durable frames.
Cons
They are not suitable for racing.

They are not stable at high speed.
Commute Road Bikes
The commute road bikes are the actual workhorses in the bike world. The bike is designed to last long and to offer comfortability to its riders. It is usually mounted with mudguards to keep you dry, racks to aid you in carrying weights, and often comes with a straight handlebar so as to keep the cyclist in a better position to see and visible while in traffic. 
The commuter road bikes wheels focus on strength and durability. It also contains well-built tires that offer good impact protection and enhance comfort. It is also equipped with disc brakes as they provide a good stopping.
These types of road bikes are perfect for people who commute to work or school and are in need of efficiency and speed. Mostly when the elements and weather are the 
Pros
They are reliable.

They offer comfort.

They are durable
Cons
It flat-out at a very high speed.
Time Trialing(TT)/ Triathlon Bike
The time trial bikes are relatively similar to the aero road bikes. However, the cockpit is designed explicitly for the time trials. The cyclist sits low and outstretches the body to the bikes' arm-in-front posture, a remarkable aerodynamic advantage for time trial racing. The riding position can be uncomfortable thus requires practice.
The bike is purposefully made for moving as fast as possible. Its cables are internally routed brake, and gear cables are routed through the tubes taking away any material that will slow the bike down.
 Its construction requires additional carbon and may cause it to weigh more than standard road bikes. 
Pros
They are fast.

They have a unique handlebar.

The frame consists of fewer cables. 
Cons
They are unsuitable for practices.
E-road
Electric road bikes are powerful bicycles that contain an electric motor that provides assistance in pedaling; they have been in the market for a while now. The e-bike has had a significant impact on the lives of riders who may have legs challenges.
Most e-bikes feature a motor that emits about 200 watts of power in 1 hour and is purposed to boost riders in tough spots and when the rider has health challenges. The bike has the ability to accelerate from 15mph to 25mph with less effort and help form pedaling while the motor is engaged.
 The battery life of an e-bike is another factor of concern. Due to additional elements in the e-bike: motor and the battery, it makes it weigh more than the standard bike. Its life span is dependent on many variables:
The road quality that you ride on.

Riders' weight.

The terrains.

The surrounding temperature.

The size of the bike. 
Pros
They are fast.

They make challenging terrain easy to ride on.

They accommodate people who have health challenges.
Cons
They can not be used in racing competitions.

They have a higher maintenance cost.

They are expensive.
Best Road Bikes under £3000
Product Description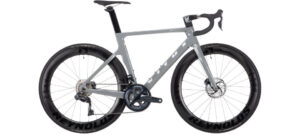 The Vitus ZX1 CRS Road bike is an Aero-inspired race bike that is designed for speed and efficiency. It was one of the first carbon fiber road bikes launched back in 1991. It took the market storm with the improved engineering method that allowed the manufacturer to extend the aerodynamic limits, thus making a unique bike.
The bike is equipped with Prime Black Edition 50 Carbon Disc Tubeless and Schwalbe One Tubeless Easy tires that roll you with speed. The wheel and the tire combination provide you with the confidence to put the bike down in any race and weather condition. The bike has excellent performance and a great grip and is equipped with tubeless rim tape and tubeless valves that aid you in easy transition to complete tubeless so as to enjoy more spinning with less weight.
It has a carbon-built frame that makes it lightweight. It has a Shimano Ultegra groupset that ensures a stress-free operation and Prime Aero cockpit elements that provide the right riding position.    
Main Features
It has a lightweight frame with a ZX-1 Disc, Unidirectional Carbon fiber T700, and an internal cable.

A merged UD Carbon fork.

The bike is equipped with Shimano Ultegra R8020 shifters.

The ZX1 CRS has Shimano Ultegra R8000 front derailleur.

It has Shimano Ultegra R8000 Hydraulic brakes with a Resin Pad that contains cooling fun.

It has a Prologo Dimension, T4.0 saddle that has a Microfibre cover.   

The cassette is a quality Shimano Ultegra R8000 53-36T.

The Vitus ZX1 CRS weighs about 8.02kg (Medium).

The bike contains Schwalbe ONE Performance TLE 700c x 25 bike tires.
Why we have chosen it
The Vitus ZX1 bike has endless great features, performance, and positive feedback from riders. We are delighted to name the Vitus ZX1 CRS road bike as one of our best road bikes under 3000. The bike can be used by riders who are concerned about speed and efficiency since the ZX1 CRS, which is an aero type of road bike, has all the qualities that are needed.
The Vitus ZX1 CRS is designed with a durable and robust frame, cassette, and fork.
Read Reviews 
Manufacturing a product is generally a great thing since it is supposed to fill a market gap that you've identified as empty. However, receiving reviews from clients is greater since it helps the client and aids other potential clients in making decisions.
The Vitus ZX1 CRS has received positive feedback from clients and recorded a good rating. 
Product Description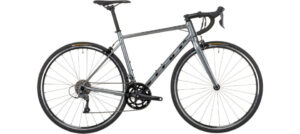 The Vitus Razor bike is a sporty and comfortable road bike with an aluminum frame and is dependable for training or commuting. The road bike features the latest 6061-T6 Double Butted Aluminium and a complete UD T-700 carbon fork narrow steerer. The bike provides you with a great balance of small weight, speed, and exceptional handling and comfort. 
 It consists of a quality drivetrain Claris R2000 8 Speed from Shimano that provides efficiency and dependency. It is also equipped with Tektro R317 rim brakes and Vitus 700c wheels integrated with good-looking Vee Road Runner 700c x 28 tires that deliver great performance in all conditions.   
 The bike features Vitus aluminum handlebars, a gooseneck(stem), and a Seatpost with a Vitus road saddle. The bike also comes with its own advantages as it is equipped with two bottle mounts and fenders.
Features
These are the features that make the Vitus Razor Road Bike:
It has a lightweight 6061-T6 aluminum frame with cable routing that is internal.

It contains a complete UD T-700 Carbon fork.

The Vitus Razor contains a narrower head tube and a steered fork.

It features Vitus Shining A-X240, 700c, 24 Hole, Eyelets front and rear rims.

The bike contains Tektro R317 rim brakes and a Novatec D791SB 28h, 11Speed rear hub.

It has a Shimano Claris 2×8-speed drivetrain.

It features a Shimano Claris R2000 ST-R2000 shifter.

It contains a Shimano Claris R2000 FD-R2000 and a Shimano Claris R2000 RD-R2000 front and rear derailleur.

It also contains a Prowheel Ounce 50/34T, 8 Speed Chainset.

It weighs about 10.3kgs
Why we have chosen it
The Vitus Razor road bike is the latest release by Vitus Bikes and offers the latest frame. It is a comfortable bike that can be used in any condition. It is relatively cheap when compared to other Vitus Road bikes but offers great and quality performance. The bike is light making it a good choice to ride when training and commuting to work or school. 
It has Shimano accessories of great quality, cost-effective, and easily found on the market.
Reviews 
The Razor Claris bike has received a tremendous amount of feedback and rating from clients. They continue to praise the good work done on the bike as well as give honest remarks on what should be improved. 
Reading a product review is a great way to gauge any product since different users write reviews with different tastes.

Product Description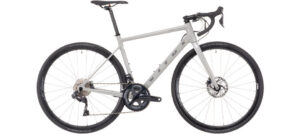 The Vitus Zenium is engineered to provide the perfect combination of comfort and performance in all riding experiences. It features a full UD carbon fork with a narrowed steerer for navigation and inspiring handling, stability, and control. The solid geometry and a skinny dropped saddle aids in increasing the comfort as well as providing a balanced ride. 
The bike is built to fit up to 33mm tires so as to provide you with more options. The Zenium CRS bikes' frame is a great balance of quality tube shapes and latest features, combined to give a package that maintains a low weight. 
Main Features
These are the features that make the Vitus Zenium CRS Di2 Road Bike:
The bike is equipped with Shimano Ultegra R8050 11 Speed groupset and Ultegra Hydraulic disc brakes that ensure high performance and reliability. 

It is designed with Zenium Carbon T700 full UD Carbon.  

The bike is fitted with the latest Prime Barounder Disc Tubeless wheels paired with Schwalbe ONE 28mm tires.

Zenium Carbon UD Carbon 12 x 100mm Axle fork is a narrow steerer for inspiring balancing and handling.

It weighs about 8.05kg (Medium).

The bike consists of a Shimano Ultegra R8000 52/36T cassette. 
Why we have chosen it
The Vitus Zenium Road bike is a versatile, comfortable, and fast bike that is a choice for day-long rides: tough training and Crit rides use. It is lightweight and fitted with quality Shimano and Zenium accessories that enhance speed and ensure comfort. 
It is a good choice for riders who look at speed as a factor. The Zenium CRS has quality specs for your cash. 
Review
If you require more information about the Vitus Zenium CRS Di2, read the reviews as they contain honest feedback from clients. The bike has received both positive and negative feedback. Reviews represent the actual image of the product in the market.

Product Description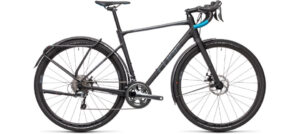 The Cube Nuroad bike is engineered to be a full package. It is equipped with a luggage carrier, a rear light, and a full-length mudguard. It has a fitting frame that can hold 40mm tires and a carbon fork that provides assistance on rough roads. 
The bike is fitted with a Shimano reliable gear that aids in maintaining speed. It also has great disc brakes that provide easy stopping in all weather. It has an aluminum frame making it a low-weight bike. 
The Nuroad bike combines the very best features of the race and cyclocross road bikes with little features of the mountain bike. The Cube road bike has been improved to have a tire clearance of 45 mm tires or 40mm tires with mudguard fitted. The bike has a complete internal cable routing that helps maintain the gear shifts clean.
Main Features
These are the features that make the Cube Nuroad Pro FE:
The bike is made of a High-Performance Aluminium frame.

It has Carbon Cube Nuroad Disc forks.

It features a Shimano Tiagra st-4700 shifter and a Shimano Tiagra 2×10 Speed Drivetrain.

The Nuroad is equipped with a Shimano Tiagra FD-4700 and a Shimano Tiagra RD-4700 GS front and rear derailleur.

It has a strong and durable Shimano Tiagra FC-4700, 50x34T chainset. 

It weighs about 11.9 kg.
Why we have chosen it 
The Nuroad Pro FE road bike is a unique kind of road bike, as it shares great features from other types of road bikes and mountain bikes to one great bike. It is equipped with quality accessories from Shimano that enhance performance, speed, and the equipment is easily found in stores in case of replacement or repair.
The bike has received positive reviews and a good rating. The bike can be used as a touring bike, commuter bike, or recreational bike.
Review
 Buying a bike can be stressful since you don't know how the features on the bikes work in different environments. One of the ways to know this is to read the reviews. Reviews hold information of different clients from different environments giving their honest analysis about the product. They act as first-hand information of the buyer of bikes and other products. 

Product Review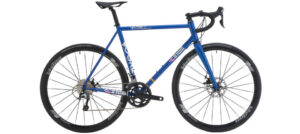 The Vigorelli Road Disc Tiagra Bike consists of a Futura Carbon fork and a Columbus Thron Steel frame enhanced for strength and flexibility at a small weight while giving steel the comfort of adaptability. 
The hugely versatile frame is known for its outstanding cycling features in a-disc brake type, and it's designed to incorporate road groupset. Made using the Columbus Thron tubing and joined with the Columbia Futura Carbon Disc Fork, the Vigorelli was engineered in conjunction with the cyclists of Team Cinelli Chrome, Red Hook Crit Champions, and displays a pretty metallic blue coloring with Chrome decals. 
The improvement in the engineering of the different steel tube thicknesses for separate parts of the frame provides a significant weight distribution that only steel can produce. It makes less toe overlap and a bigger bottom bracket position. 
The Vigorelli is designed for cyclists searching for a speedy and positive ride, thanks to its stable gear criterium cycling heritage. The rider enjoys everyday steel comfort, disc brakes, and up to 700 x 28c tires. The bike also consists of thru-axles on both front and rear wheels, internal cable routing that promotes cleanliness of bikes, and a smooth mount disc brake.     
Main Features
These are the features that make the Cinelli Vigorelli Road Disc Tiagra Bike:
It is made of a Columbus Thron tube set frame.

It consists of Columbus Futura Disc forks 1 1/8″ – 1 ½."

It has a quality FSA Omega MX Chainset 34/50T chainset.

The bike operates on a Shimano Tiagra 10 x 11/34T cassette.

The bike is equipped with a Selle Italia Model X saddle.

The Cinelli Vigorelli consists of a Vision Team 40 TLR Disc wheelset and an Impac RacePac 700 X 28 tires.

Its frame weighs about 2.05kg, while the fork weighs about 450grams.

It consists of mudguard mounts. 
Why we have chosen it 
The Cinelli Vigorelli bike is a relatively cheap bike that offers excellent performance to riders. The bike is light, fast, and fitted with quality accessories easily accessible in moments of replacement and repair. The Cinelli bike is designed with durable materials and can be used for touring, recreational, or commuter purposes.
Review
The internet has brought the world in our fingerprints, from purchasing goods online to researching the next product you want to buy. From purchasing to evaluating a product online, the internet has created a forum that aids clients in expressing their satisfaction with products. 
It's easy to assume the significance of clients' reviews; with the advancement of the internet, reviews can impact product sales and overall company sales.
Reading reviews as a potential client can widely influence you to purchase or not to purchase a product. This depends on the amount of positivity and negativity in the reviews.

Product Description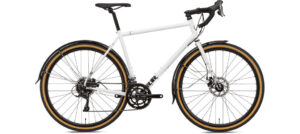 The Octane One Kode ADV road bike is durable and reliable designed from strong and light CrMo steel. It is fitted with quality components and elements to ensure that every ride is efficient and comfortable.
The bike is fuelled by a Shimano 2×8 -Speed drivetrain that has a wide range of gear to speed you up. The road bike comes with mounts for water bottle cages and a carrier rack. The bike is designed for even lengthy bike-packing journeys, ensuring that the inconvenience of carrying loads is easily managed. It is equipped with disc brakes and bigger volume tires that ensure that your journey is efficient and comfortable.
Main Features
Here are the features that make the Octane One Kode ADV road bike:
A CrMo Steel frame that is custom formed.

It features a CrMo Steel 9 x 100mm, 1-⅛" fork.

It is powered by a Shimano RS-200 50-34T Crankset.

The bike is equipped with Sunrace 11-36T, 8-Speedcassette and a Shimano ST-2400, 2 X 8 -Speed Shifters.

It has Hayes MX Comp Disc brakes.

The bike is fitted with Octane One 700c 32h tubeless-ready rims and CST Tracers 700 x 38c tires. 

The Octane One Kode ADV bike has an Octane One Phoam manufactured cover.  
Why we have chosen it
Our main reason for having Octane One Kode ADV on our list is its price (relatively cheap ) and the exceptional qualities and accessories that can be easily found when replacing or maintaining.  
The bike offers excellent performance and quality accessories that ensure efficiency, speed, and comfort. The Octane One Kode ADV can be used in a wide range of applications: touring, commuting, or adventure. 
Review  
Review features different clients' experiences after using the Octane One Kode ADV bike; most of these bike reviews are positive, giving us more information about it. But there are some negative ones. What is the need for reading the reviews? Potential buyers are encouraged to read reviews so as to have familiarity with the product before purchasing the product. 
Octane One Kode ADV commuter road bike has got positive reviews. When you read the feedbacks, you will get more information.      

Product Description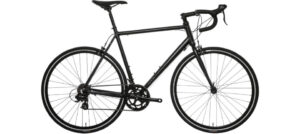 The Brand-X road bike comes with a lightweight and robust aluminum frame. It features a Shimano Tourney gear that is reliable and efficient. The bike is an entry-level race bike engineered for speed and can be used for all activities with comfort. 
The bike comes with a large wheel 700x25c that offers excellent strength and has the ability to withstand potholes. It has an ergonomic cycling position and a stock saddle that give comfort to riders on long rides. 
Main Feature
These are the main features in Brand-X Road Bike:
The Brand-X road bike has a 6061 alloy lightweight frame and a steel fork.

It is equipped with a Tektro R312 rim brakes system and a Shimano 14-28T, 7-Speed cassette that works perfectly in stopping and shifting.

The bike is fitted with a Prowheel 50-34T crankset.

It weighs about 11.5kg.
 Why we have chosen it 
One of the things that have made us choose the Brand-X Road Bike is that it is a budget-friendly bike with excellent quality accessories and is efficient and fast.
The bike is well designed and protected without excessive packaging, thus maintaining a good weight. It is also has a lot of positive reviews that confirm our trust in the bike. 
Review
Reviews are a perfect source of data from the clients directly to the manufacturer. Reviews are used to understand the market need and guide in improving their product or identifying an untapped demand in the same market. For example, the Brand-X Road Bike has received a lot of positive and some negative reviews. The manufacturer can use this feedback to enhance the current brand of the bike or in producing a new bike. 
Product Description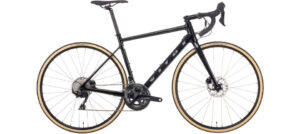 The Zenium CR Road Bike provides a great blend of performance and comfort for a perfect all-round cycling experience. The compact geometry and a dropped seat position increase comfort, confidence and provide the rider with a balanced ride. The bike is equipped with a UD carbon with a narrowed steerer for easy control and handling, control, and balancing confidence. 
The bike frame design is enhanced to allow bigger tire size to fit larger wheel size; it can now fit up to 32mm tires. The frame is well balanced with classic tubes shapes and the latest features, combined to keep the weight at minimal.  
The Zenium CR Disc is equipped with the Shimano 105 R7000 11 Speed groupset that provides some superb "trickle-down" mechanism with huge highlights being the latest small shaped shifters fuel the hydraulic flat disc brakes. The Zenium spins on Vitus Clincher and light hub, combined with the super cool Vee Road Runner 28 mm tires.    
Mian Features
Here are the main features in the Vitus Zenium CR Road Bike:
 The bike is made of a Zenium T700 UD Carbon Fibre frame that has internal cable routing.

It is equipped with Zenium UD Carbon 12 x 100mm axle fiber fork.

The drivetrain features a Shimano 105 R7000 11-speed.

It is equipped with Shimano 105 ST-R7020 shifter, a Shimano 105 FD-R7000 front derailleur, and a Shimano 105 R7000 RD-R7000 rear derailleur.

It comes equipped with Shimano 105 ST-R7070 Hydraulic brakes.

Its front rim consists of a Vitus Shining DB-X21, 700c, 24Hole, and Vitus Shining DB-X21, 700c, 28Hole rear rim.

The bike is equipped with a Vitus KT TX5F-12,24h, 12 X100MM, center lock front Hub and Vitus KT TZTR, 28h, 10/11 Speed, 12 x 142 mm, Centre lock rear hub.

 It weighs about 8.96kg.
Why we have chosen it
The Vitus Zenium CR Road bike is an excellent machine with great features. The reason why we have chosen it to be on our list is the fact that the bike is cost-friendly compared to other Zenium bikes. This is the answer if you look for a bike with Vitus Zenium qualities but a low budget. 
The bike is lightweight, efficient, durable, comfortable, and has speed. It generally has most riders' requirements when looking for a road bike.
Review 
The fastest medium between clients and manufacturer is, without doubt, reviews. Reviews also provide potential clients with the information they need before they buy a product. 
The Vitus Zenium CR Road bike has received positive and negative feedback that you can use to gauge the bike before buying.