Do you want to get into cycling but often find yourself suffering under the pain of choice? Or perhaps you seek guidance on what bikes might be affordable as every other bike you see is hyperbolic mad prices. Cyclists and cyclists-to be here are simple; easy to follow guide/review to help you decide on your next long-time road bike without breaking the bank.
What is a road bike?
A road bike (according to sources on the internet within my reach like the well-revered Oxford English Dictionary) is nothing but a bicycle for use on paved roads as opposed to rough terrain or racing tracks, especially one designed for competitive cycling. This means that they have to pass certain legal criteria/requirement to be accepted for road use. (Much like road-legal cars and road illegal cars)
They are made for riding on public roads with ease. And you'll be able to tell a road bike when you see one. As they're often characterized by their sleek and slender appearance, with lowered, curved handlebars, they also have much narrower wheels and tires that you would call "skinny". Many a time, they have a rather small seat and lots of cogs, or gears, on the back wheel.
What bikes are NOT road bikes?
In addition to road bikes, there are two other broad classes when it comes to bicycles.
Mountain bikes, and
Hybrid or Cross Bikes
Mountain Bikes
Mountain bikes are significantly harder to pedal and they also tend to be a little slower on paved roads. They are usually designed for rugged and uneven terrain. But on the plus side, they do have a cushy slightly more comfortable ride compared to their road counterparts, (thanks to the much stronger suspension system) an upright riding position, and can travel easily on a wide variety of surfaces.
Hybrid Bikes
Hybrid (sometimes also called cross bikes) are almost just as fast and easy to pedal as road bikes while being almost as comfortable and versatile as mountain bikes. Meaning, these offer the comfort of an upright riding position along with flat handlebars and more often than not, a wider seat. With a slightly heavier frame and tires that are wider and more robust than a road bike's, hybrids handle with a lot more confidence over comparatively rougher terrain and on not-so-perfect roads.
So, it tends to offer the best of both worlds for an experienced cyclist.
I want a road bike. But WHICH ONE?
So, you have decided that a road bike is for you? If your answer is yes, then that is great news. Otherwise, do wait for other buying guides on mountain bikes and cross bikes. Or continue reading this one lest you change your mind.
For the purposes of this article and to make things easier for you, dear prospective buyer and valued reader, we have chosen the top six rated road bikes that cost 1500 quid or less. (With some going for as low as 350 pounds)

MSRP: £1049.99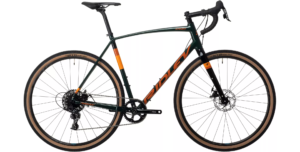 With a gravel bike, you can master any terrain, at your own pace. Ridley makes a bike that excellently combines both. Coincidence? Well, that may not be the case for Ridley.
This nifty ride is ideal for cruising on tarmac or otherwise, the Ridley Kanzo A Apex1 features a strong alloy frameset equipped with an SRAM Apex1 drivetrain, cable operated TRP Spyre disc brakes and a brilliant finishing kit. Moreover, it is equipped with the latest Shimano RS171 race wheels which are encased with WTB Riddler tyres, giving you traction, control, pace and the confidence to tackle any rough terrain with ease.
The Kanzo A is Ridley's affordable alloy gravel bike for all adventurous bikers. This bike may be the most versatile frame platform Ridley has to offer. Gravel riding is becoming more and more popular by the day. Could there ever be a better combination than "discovery" and "cycling"? We find that improbable.
The commuter setup with fenders during the week is offered, it also gives you the opportunity to discover gravel roads every now and then you can put your bike packs on to move and go exploring the world. With this bike, anything is possible.
Technical Specifications:
Frame: Kanzo A Adventure, Triple-Butted 6061-T6 Alloy
Fork: Oryx Disc Adventure, Aluminium, 12x100mm Ta
Drivetrain: Sram Apex1
Shifter: Sram Apex1
Rear Derailleur: Sram Apex1
Chain Set: Sram Apex1 42t
Cassette: Sram, 11-42t
Chain: Kmc
Handlebars: Forza Stratos
Saddle: Forza Stratos
Seat Post: Forza Stratos
Brakes: Trp Spyre C Cable-Operated Disc Brakes
Wheel Set: Shimano Rs171 Clincher Db
Tyres: Wtb Riddler 700x45c
Verdict:
Pros: Versatile, Dependable, Stylish, Comfortable, Stable, Great Design, Durable Wheels, Ideal for Adventure, Touring and Trail Riding
Cons: Maybe expensive to some, may require out-of-the-box tuning
MSRP: £999.99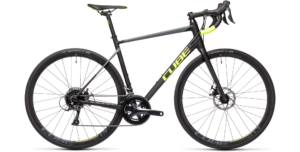 This Cube Attain Pro road bike features a very rigid aluminium frame made with Road Comfort geometry in mind, this makes it ideal for tackling roads new or old on your own or with a pack. Cube has also generously equipped this affordable model with a full-carbon Cube CSL Race Disc forks set, this allows for a much more precise steering and fluid responsiveness as you pick up the pace.
The Cube Attain Pro Road Bike (2021) is equipped with Shimano Sora Drivetrain, this particular model offers very fast acceleration and a reliable stopping power thanks to its TRP Spyre mechanical disc brakes.
The bike is crafted with every journey in mind, this versatile road bike is very lightweight, weighing in at only 10.3kg. This makes it a good option for riders who favour the durability of an aluminium frame, combined with the reduced weight of its full-carbon forks.
Ideal for the long-run, the Cube Attain Pro Road Bike (2021) is completed with a Cube RA 0.8 Aero Disc and Conti Ultra Sport 3 tyres. This combo provides a quick and buttery roll as you keep your momentum flowing on for every single mile.
Technical Specifications:
Brakes: TRP SPYRE Md-C610c, Flat Mount (160/160)
Cassette: Shimano Cs-Hg200, 11-34t
Chain: KMC X9
Colour: Black – Flash Yellow
Crankset: Shimano Sora Fc-R3000, 9-Speed, 50x34t, 165mm (47cm), 170mm (50/53/56cm), 175mm (58/60/62cm)
Fork: Cube CSL Race Disc, Full Carbon, 1 1/8″ – 1 1/4″ Tapered, Flat Mount, 12x100mm
Frame Size: 53.5cm (21″), 50cm (19.5″), 58cm (22.75″), 47cm (18.5″), 60cm (23.5″), 56cm (22″)
Frame: Aluminium 6061 T6 Superlite, Double Butted, Smooth Welded, 3d Flat Mount Disc Brake Dropouts, Road Comfort Geometry, Fender Option, 12x142mm
Front Derailleur: Shimano Sora Fd-R3000-Bm, 31.8mm Clamp
Gender: Unisex
Manufacturer Part Numbers: 58cm: 47620058; 50cm: 47620050; 56cm: 47620056; 60cm: 47620060; 47cm: 47620047; 53.5cm: 47620053 And 62cm: 47620062
Material: Aluminium
Rear Derailleur: Shimano Sora Rd-R3000, 9-Speed
Saddle: Natural Fit Venec Lite
Seat Clamp: Cube Screwlock, 31.8mm
Seat Post: Cube Performance Post, 27.2mm
Shift Brake Levers: Shimano Sora St-R3000
Speed: 18 Speed
Tyres: Conti Ultra Sport 3, 28-622
Use: Road
Weight: 10.3kg
Wheel Size: 700c
Wheelset: Cube Ra 0.8 Aero Disc
Verdict:
Pros: Stylish, Stable, Great Design, High-quality materials, decent build quality. Lightweight. Affordable. Durable. Neutral handling is perfect for beginners.
Cons: Wide-ranging cassette gives some big jumps between gears
MSRP: £549.99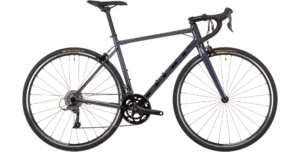 Looking for a dependable Aluminium road bike for training? Or do you prefer to use it for commuting purposes? or perhaps, your first road bike? the Vitus Razor W is sure to deliver on all fronts.
The Vitus Razor W is easy to use, a comfortable and fashionable road bike that's geared and engineered towards women cyclists.
It is optimised to provide you with a reliable pace, with varied agility and control, this female cyclist's race bike is quite the light weight and is very versatile. It is built out of a very strong yet light aluminium frame and carbon forks, giving you the perfect balance between strength and control at a considerably low weight. Moreover, it comes equipped with a Shimano Claris 2×8-Speed drivetrain and boastful calliper rim brakes – this bike is an amazing all-rounder for fitness, racing laps and group training sessions. This really is a bike that can ride under any condition.
Features:
An all-new modern 6061-T6 Double Butted aluminium frame
Full UD T-700 carbon fork with tapered steerer, the Razor gives you the perfect balance of low weight, speed, excellent handling and comfort.
Shimano's efficient and reliable Claris R2000 8 speed drivetrain.
Tektro R317 rim brakes.
Vitus 700c road wheels.
Kenda tyres offering great performance, classy look and grip in any condition.
Vitus women's specific aluminium handlebars and stem.
An aluminium seat post.
Vitus women's road saddle.
Dual bottle mounts.
Full mudguard mounts for front and rear.
Technical Specifications:
Frame: Razor Aluminium 6061-T6 Double Butted Aluminium, Rim Brake, Internal Cable Routing, Mudguard Mounts, QR
Fork: Razor Carbon UD Carbon, Tapered Aluminium Steerer, QR, Mudguard Mounts Headset: ACROS Aix 322 R3 Sealed Bearings, OD48, 1 1/8" – 1 ½", 41.8 / 28.6 – 52 / 40
Handlebar: Vitus 6061 Aluminium 80mm Reach, 124mm Drop, XS:380mm S:380mm M:400mm L:420mm
Stem: Vitus 6061 Aluminium Bar Bore 31.8mm, +/- 7 degrees, XS:70mm S:80mm M:90mm L:110mm
Grip (Tape): Vitus EVA Cork
Front Rim: Vitus Shining A-X240, 700c, 24 Hole, Eyelets
Rear Rim: Vitus Shining A-X240, 700c, 28 Hole, Eyelets
Front Hub: Vitus KT 24h, QR
Rear Hub: Novatec D791SB 28h, 11 Speed, QR
Front Tyre: Kenda Kwick Roller Sport 700c x 28
Rear Tyre: Kenda Kwick Roller Sport 700c x 28
Spokes: 14G Stainless Steel, 16mm Nipple
Chain: Shimano HG40 6/7/8 Speed
Crank set: Prowheel Ounce 50/34T, 8 Speed, XS:165mm S:165mm M:170mm L:175mm
Bottom Bracket: Cartridge Square Taper BSA Threaded, 68mm, English
Front Brake Set: Tektro R317 Dual Pivot, Long Reach
Rear Brake Set: Tektro R317 Dual Pivot, Long Reach
Front Derailleur: Shimano Claris R2000 FD-R2000, Braze-On, 2 x 8 Speed
Rear Derailleur: Shimano Claris R2000 RD-R2000, 8 Speed
Left Shifter: Shimano Claris R2000 ST-R200-L
Right Shifter: Shimano Claris R2000 ST-R200-R
Freewheel: Sunrace M66 11-32T
Saddle: Vitus Women's Steel Rail
Seat Post: Vitus 6061 Aluminium 27.2mm x 350mm, 12mm Offset
Seat Screw: Aluminium 31.8mm, Stainless Steel Bolt
Weight:
Verdict:
Pros: Stylish, Stable, Great Design, High-quality materials, decent build quality. Lightweight. Affordable. Durable. very well packaged and protected, very easy assembly. Comes with a small bottle of touch up paint and a 'get you on the move' pack including pedal spanner and multi-tool
Cons: –
MSRP: £349.99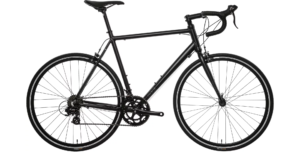 The Brand-X Road Bike is one of the most affordable and quite possibly the cheapest road bikes on the market in Britain and for commuting, riding for fitness and the occasional longer ride, it represents excellent value for money.
This road bike from Brand-X which is aptly named, "Road Bike" is sold exclusively through Wiggle and Chain Reaction Cycles, so there is at least quite some cycling experience to the name. The group also uses the Brand-X name for parts and frames, though this is its sole complete bike. It is largely built around Shimano's 7-speed Tourney groupset components, in addition to a ProWheel crankset.
Unlike Shimano's costlier groupsets, Tourney's gear cables don't route behind the handlebar tape. The gear shifting is not quite the same either as there are thumb shifters, similar to those found on older Shimano Sora groupsets, on the inside of the brake hoods.
Tourney, however, isn't as smooth as Shimano's higher-level systems but the truth is told, it is accurate and pretty darn effective, and it comes with a trimmable front derailleur — shifting it a small amount at a time — to avoid chain rub.
For present times, the 50×14 top-end gear is okay, but the 34×28 bottom gear is much more of a challenge on my local double-digit inclines. As opposed to the tour de France days.
As is expected from bikes of this price, the Tektro calliper brakes have non-cartridge brake blocks. The braking was still decent, to say the least with little to no sketchy moments, but upgrading to cartridge brake pads, however, would have made a significant difference.
It's worth noting too that the Brand-X Road Bike also has an old-tech freewheel rather than the more usual cassette, though some would have no issues with it. The road bike also comes with 25mm tyres with its own mudguard space in addition to fittings for front and rear mudguards/fenders.
Technical Specifications:
Weight: 11.02 kg
Bottle cage mounts: Double
Cable routing: External
Mudguard mounts: Yes
Available sizes: XS, S, M, L, XL
Brakes: Tektro
Cassette: Shimano, 14-28T freewheel
Cranks: Double chainset
Frame: Alloy 6061
Front derailleur: Shimano Tourney
Rear derailleur: Shimano Tourney
Shifter: Shimano Tourney
Tyres: Kenda
Verdict:
Pros: Fancy looking, robust, Comfortable and very practical bike, affordable. Shimano's 7-speed Tourney groupset works well.
Cons: Non-cartridge brake blocks, suggested maximum tyre width is only 25mm (though you might squeeze slightly wider in) and the 14-28 freehub reduces its climbing and sprinting abilities. The only issue with the gearing is the limited range. Larger than average gaps between the gears and the low number of them.
MSRP: £314.99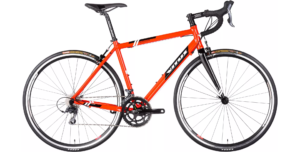 A lightweight, durable and affordable entry-level road bike. The Vitus Razor is the perfect bike to get stuck into road cycling.
In addition to that, the Vitus Razor frameset is made of butted aluminium alloy with a top tube that slopes and an external cable routing. It also features a 27.2mm seat post for a quite some compliance and a carbon-bladed, alloy steerer fork, which is not tapered. There are also rack and mudguard mounts and that is for four-season adaptability.
Vitus also claims the geometry of the Razor Road Bike is designed for a more relaxed, upright riding position, with the bike geared for comfort and good visibility when commuting.
Technical Specifications:
Weight: 10.55kg (L) – L
Brand: Vitus
Available sizes: S, M, L, XL, XXL
Headset: FSA
Tyres: 28mm Vittoria Zaffiro
Stem: Vitus
Shifter: Shimano Claris
Seatpost: Vitus 27.2mm
Saddle: Vitus Road
Rear derailleur: Shimano Claris
Handlebar: Vitus
Bottom bracket: BSA
Frame: 6061-T6 double-butted aluminium
Fork: Carbon fork, aluminium steerer
Cranks: Prowheel Ounce 50/34
Chain: KMC HG-40
Cassette: Shimano HG-50 11-28
Brakes: Tektro R317
Wheels: Vitus rims, KT hubs
Seat angle: 74.5 degrees
Head angle: 71 degrees
Chain stay: 40.8cm
Seat tube: 48.7cm
Top tube: 54cm
Fork offset: 4.65cm
Trail: 6.8cm
Btm. bracket ht.: 28.3cm
Wheelbase: 993mm
Verdict:
Pros: Great bike for reasonable money. Fast, comfortable to ride, looks great, is fairly inexpensive and has a good kit. Full Shimano Claris groupset. Has good wide tyres and wheels. Sporty geometry. Rack and mudguard mounts
Cons: Steps down to a Prowheel chainset and brakes being non-cartridge. The saddle may seem a bit uncomfortable. Pedals are not the best. Lack of lower gear range
Conclusion
Buying a bike anywhere (online or otherwise) can be an estranging process especially if this is your first bike we are talking about, but if you do your homework and learn about the ins and outs of the market by using the resources available to you to make sure you get the most out of your money, it can be a much better experience.