Mountain bikes are not equal in terms of manufacturing, and hence, there's no single model that is considered the best. Instead, they come with varying designs, specs, and prices, with each trying to suit a fair part of the market. For instance, a trail riding mountain bike is not the same as one intended for cross-country racing. As a result, different manufacturers stay competitive by producing bikes models for different people, terrains and settings.
Being an established brand in the cycling industry, Cube makes some very reliable and impressive top-quality mountain bikes out there. The company began with trail bikes and, over time, has managed to penetrate the market with top-tier mountain bikes ranging from entry-level to high-end models. So, if you are a Cube buff and wish to buy one of their mountain bikes, you are on the right page.
In this article, we'll look at some of the Best Cube Mountain Bikes and the different factors to consider when buying a typical mountain bike. We'll also answer a few Frequently Asked Questions regarding mountain bikes later on. Let's rock!
The Five Best Cube Mountain Bikes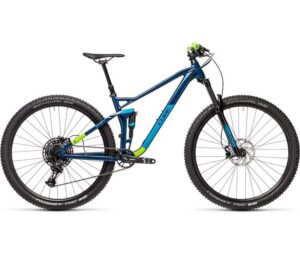 Starting us off is the Cube Stereo 120 Pro Mountain Bike. Don't let its understated looks fool you, as it boasts exceptional trail-taming abilities, which make it an ideal bike to take with you on all-day-long marathon and tour bike rides.
Depending on your budget, this mountain bike comes with either a carbon/alloy or aluminium frame. High-end models feature Advanced Twin-Mold carbon fibre which ensures a stiffer and lighter structure. On the other hand, the frame of the alloy models is made from Cube's finest Aluminium Ultralite. It employs triple-butted tubes and a 7005 alloy, making the structure very stiff, incredibly lightweight, and strong.
Either way, the bike's stiffness is among the key features that make the Cube Stereo 120 a terrific bike. Besides the stiff frame, it also boasts an impressive suspension that ensures an agile and responsive ride.
As the bike's name implies, it comes with 120mm front and rear suspension travel. The Stereo 120, like the Stereo 160 and 140, incorporates the remarkable four-bar suspension linkage. In addition, the rear triangle is not impacted by braking or pedalling forces thanks to a hinge included in the chainwork, allowing it to focus on smoothing out the path.
The Cube Stereo 120 also displays the Efficient Trail Control design, which provides a linear rate curve. As a result, the bike's rear-wheel remains sensitive all through the full trip range.
Most cyclists would agree that Shimano's groupsets are nothing but impressive and the Stereo 120 proves that. In other words, it uses Shimano's XT components, through which it delivers quick and sharp gear shifts any time you pull the lever.
Further, the Stereo 120 bike comes with two varying wheel sizes to cater for the different heights of bikers. The 27.5-inch wheel is available in 20-, 18- and 16-inch frame options, while the bigger 29er comes in 23-, 21-, 19- and 17-inch frames. The smaller wheel delivers agility in spades making it ideal for riders who want a nimbler bike. But if you prefer a bike to roll smoothly over bumps and lumps, the larger 29er fits the bill.
Features
Weighs 13.19 kilograms
Carbon or Aluminium frame for stiffness
Efficient Trail Control suspension design
Shimano XT components
Two different wheel sizes; the 29er and 27.5 inch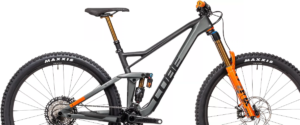 The Cube Stereo 150 will undoubtedly reset your expectations of what a mountain bike is capable of. The bike has its C:68 frame built from top-grade carbon fibre that boasts some carbon thread weaving to increase its carbon-to-resin ratio. As such, the bike's frame has thinner and lighter walls. The resin also has nanoparticles which help lower the risk of delamination. Although Cube doesn't have an alloy option, it offers two C:62 models, which are cheaper.
The bike then includes Cube's familiar ETC 4-Link four-bar linkage, which gives it 150mm of travel outback. In addition, its kinematics adjust to deliver a more progressive stroke, thereby improving control and confidence as you push the bike to its full travel limits.
Unlike most enduro bikes of its generation, the Stereo 150 lacks the lowered and stretched geometry. Instead, it is somewhat shorter than modern standards, and at the same time, its head angle of 66˚ isn't too slack. The seat angle of 75.5˚ places you nicely over the pedals when seated, and the bottom-bracket drop of 34mm ensures your weight stays low.
Being a high-end mountain bike, the Stereo 150 includes a Fox 36 fork with the FIT GRIP2 damper alongside a Float X2 piggyback shock. It then employs SRAM's Code R brakes and mid-range GX Eagle groupset. Thanks to the Fox Factory kit, the bike's suspension performance is fantastic, which allows more smooth adjustments than ever.
The Evolution SLs included in the Cube Stereo 150 has a 30mm internal width which offers a robust platform for the excellent Schwalbe Hans Dampf and Magic Mary tire pair. Although Newmen may not be familiar to some, it is reputable for producing top-quality components and, even more impressive; it takes up wheel duty on the Cube.
Despite its big tires, the Cube Stereo 150 still feels tight, light like a typical highly responsive trail bike, and lightweight allowing for simple wheel lifts. The bike also boasts a compact size which makes manoeuvring across different terrains as simple as possible.
Features
Top-grade carbon fibre frame which makes the bike lightweight
Nanoparticles to help lower risk of delamination
Cube's 4-link four-bar linkage for excellent control
Fox Factory kit for remarkable suspension performance
30mm Evolution SLs internal width to accommodate the tires
Schwalbe Hans and Magic Mary tires with excellent traction and response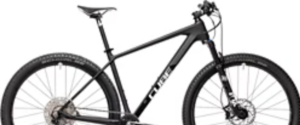 If a cross-country racing bike is what you are after, the Cube Reaction is the real deal. The bike's frame is more of a game with two parts. One is a slenderer top tube with a seat-stay to add a degree of comfort while keeping your weight sensible, while the down tube and the chain-stays are boxy and relatively big to enable maximum power transfer. The frame is a C:62, with the number "62" being the percentage of carbon fibre making up the composite. With such high carbon fibre content, the frame is lighter and stiffer compared to that of rivals with less.
It then features the Boost standard on the frame, ensuring more stiffness in the rear wheels and accommodation of shorter chains. As a result, the bike boasts enhanced cornering and better drive efficiency. The Boost-compatible back end of the frame also has extra tweaks, which form a new type of geometry known as the ARG2 (Agile Ride Geometry second version). Cube claims that this geometry enhances the ride characteristics better than prior race-oriented Cube MTB XC bikes.
The Reaction's head tube allows cables to enter from the front hence reducing rub. It also offers ample protection from chain suck, although this usually isn't an issue with 1x drivetrains like the one fitted on this bike. You'll require an Allen key if you ever intend to remove the rear axle, which could slow you down during race situations. The cycle isn't the most generous on mud clearance, and you might hence have a hard time when fitting a tyre that's wider than 2.25 inches.
Being an XC bike, the Cube Reaction comes with Fox's 32 StepCast fork, which besides being lightweight, also has race-focused damping. It then includes a full Shimano brake and 12-speed drivetrain setup, with the bike rolling perfectly on Fulcrum wheels. Schwalbe does the honours to provide the Racing Ralph and Racing Ray tire combo. They aren't the softest rubber compounds, but the treads were remarkably aggressive. The long stem, fairly slim grips, and the 740mm narrow bar come from Cube's Newmen brand.
Features
Box-like stiff belly for efficient power transfer
62% carbon content for a lighter and stiffer frame
The boost-compatible rear end for creating the ARG2
It comes with a fitted 1x drivetrain
Fox 32 StepCast for race-focused damping
Shimano brake and 12-speed drivetrain setup
Schwalbe Racing Ralph and Racing Ray tires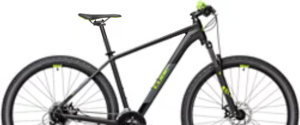 The Cube Aim Hardtail Mountain Bike blends versatility with efficiency, comfort and capable off-road performance. Looking at its features and colour schemes, it is ideal for MTB trail riding and suitable for commuting and family cycling.
The key highlight of the Cube Aim is the frame, whose quality rivals that of much costlier mountain bikes. It features the 6061 aluminium alloy, making the frame tubes sturdy, stiff, and lightweight to boot. As a result, it delivers elegant handling characteristics alongside efficient pedalling. The bike then comes with internal cable routing to keep the lines clean and clear, which is notable for a mountain bike in this price range.
The Agile Ride Geometry ensures ease of control by offering lively, agile handling. Therefore, the Aim is ideal for biking on the trails since it assures efficient and comfortable long rides. It also features a Suntour fork which smooths any bumps on the trail, thanks to its 100mm suspension travel. It may not have air springs present on more expensive counterparts but instead uses a heavier coil spring on the fork. However, the bike's feel is surprisingly smoother.
Moreover, the XCM fork includes a remote lockout switch which ensures efficient biking on smooth roads by locking the fork. Then, when approaching bumpy trails, you may open the switchback up again without having to lift your arms off the handlebars.
The Cube Aim then incorporates a reliable Shimano triple chain-set drivetrain that provides a broad range of gears for descending and climbing different terrains. In addition, its hydraulic disk brakes deliver consistent, reliable, and powerful stopping power for all weather conditions, unlike the traditional V-brakes that tend to lose some grip in the wet.
Its 27.5-inch wheels ensure an excellent balance between agile handling and rapid rolling characteristics. Further, the Cube Aim includes Schwalbe Smart Sam tyres which come with low profile knobs. As a result, they provide excellent grip, especially on loose trails, and don't slow you down on smoother terrains.
Features
6061 aluminium for a sturdy, stiff and lightweight frame
Internal cable routing keeping the lines clear
Agile Ride Geometry for easy control
100mm suspension travel Suntour fork with a remote lockout switch
Reliable Shimano triple chain-set drivetrain
Hydraulic disk brakes for powerful, consistent stopping
Schwalbe Smart Sam tyres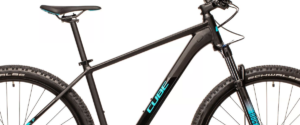 One of the best things about the Cube Analog is the vast array of size options. So, whether you are a tall rider or a small one, be sure to get a fit for you.
The bike's frame is well made, featuring Aluminium material which makes it both sturdy and stiff. Other than that, it features a 27mm seat post which delivers a degree of flex to relieve the sting on your back end when seated while providing comfort on bumps. The bike's saddle is also decent in terms of comfort.
Some cyclists had an issue with the frame claiming it was pretty tall, making it relatively more challenging to corner fast and making them feel quite cramped. Adding to the excess frame height is the stem, which can't drop too low because of the conical headset spacer. However, the frame allows the cables to run along and through it hence clearing your lines.
Similar to the Aim model, the Analogue comes fitted with Schwalbe Smart Sam tyres. They include a hard compound that assists you in finding the limit quickly. However, these tyres tend to be unpredictable on the limit and may lack a cornering edge like other top-quality Schwalbe tyres. These limitations could make the bike rank low as a proper off-road mountain bike, but they may suit a cyclist who handles mixed-commuter style duties.
Notably, the Cube Analog features a Shimano Derailleur rear drivetrain shifting across a 12-speed SRAM cassette. It also has an upfront triple chain-set with 40, 30 and 22T ratios that help turn its big wheels. The braking setup comes with Shimano hydraulic disc brakes that provide decent power, feel, and confidence in last-minute stoppers. However, with a weight of 14.2 kgs, the Cube Analog is not the lightest mountain bike, and you can feel the weight when trying to make tight turns or when climbing.
Features
Wide range of size options
Aluminium frame for decent stiffness
Schwalbe Smart Sam tyres
Shimano drivetrain with a 12-speed cassette
Shimano hydraulic disc brakes
It weighs 14.2 kilograms hence slightly heavy
Buying Guide
Type of Bike
Mountain bikes can be grouped into categories depending on their amount of suspension travel and their geometry. And each sort is designed to thrive in specific riding circumstances and terrain.
On one end are the cross-country bikes that feature limited tire clearance, steep angles, and suspension travel between 0 and 100mm. They also come in dual-suspension varieties or the traditional hardtail.
Downhill bikes, on the contrary, have suspension travels of up to 200mm built to withstand beatings and roll down the gnarliest, steepest surfaces. Also, at the same time, such bikes tend to have super-slack angles.
We have Trail bikes from another end of the spectrum that blends most features in other classes to create a happy medium. They suit a rider who intends to tackle an array of trails and terrains both uphill and downhill. These bikes usually include rear and front suspensions, with the travel ranging between 110 and 150mm. Then again, their geometry is neutral to ensure predictable handling on different terrains.
The other sort is the Enduro or All-Mountain bikes which, like trail bikes, also feature rear and front suspensions with travel ranging between 140 and 170mm. You'll also find most models with the typical 27.5-inch wheel size, with others having 29er wheels.
Their geometry is favourable for descending, and they also boast slacker headtube angles for slowing the steering. Moreover, enduro mountain bikes also feature low-bottom bracket heights and longer wheelbases to enhance their stability.
Suspension
The current suspension technologies are notable as they help smooth out bumps that could have easily clattered your fillings lose a while back. At the same time, suspensions ensure a more controlled, smoother ride by delivering a firm pedalling platform.
They can either come as coil or air-sprung with varying shaft diameters and allow adjustments and tuning to suit the biker's demands.
Frame Material and Weight
Mountain bikes that feature carbon tend to be lighter than aluminium, even though the difference isn't always vital as you'd expect in a road bike.
As such, carbon frames are ideal for enduro or cross-country rides as you will want to have lesser weight on climbs. On the contrary, a bit of additional weight can come in handy by enhancing stability when riding downhill. 
Also, carbon frames happen to be stiffer than their aluminium counterparts and hence a lot snappier, making them excellent for speed rides on smooth terrains. But in an aggressive riding and rough terrain setting, an aluminium frame may not achieve the same power transfer but will have better flex hence a more forgiving ride.
Comfort
A carbon frame's structure absorbs some of the shocks from rough trails. The lighter weight alongside the damping effect can make your ride feel both comfortable and faster to boot, especially on long-distance rides.
However, if the carbon frame happens to surpass your budget, you could consider replacing the seat post and handlebars for carbon.
Frequently Asked Questions
Are disc brakes better than rim brakes?
Without a doubt, disk brakes are more reliable, especially in wet weather where rim brakes would strain to grip the wheel. Disk brakes also have better handling with grime and dirt where rim brakes would tend to clog up.
What is the importance of a full-suspension mountain bike?
If you intend to go ride off-road more often, a full-suspension mountain bike is ideal. It includes a rear shock which, despite bringing about a weight penalty, will ensure comfortable rides even during long days, particularly for cyclists suffering from back or knee pain. However, the extra bounce lowers the bike's traction on technical terrains making you slower.
How much suspension travel do I need on a mountain bike? 
Travel is the most distance the front suspension fork of a mountain bike can compress. In other words, more suspension travel equals more shock absorption. Nonetheless, it also projects to using more energy when riding faster on flat surfaces.
Any distance below 120mm is considered short travel. Bikes with short travel will deliver the needed shock absorption when riding on fire roads, smooth trails or tarmac. However, cycling on trail features and fast descents on such bikes may knock your confidence as the steering tends to feel twitchy.
Long travel suspension involves anything between 120 and 200mm. Consider such a bike if you want confidence to ride downhill on rough terrain. Besides the extra cushioning, these bikes also offer more control in such situations.
Notably, some bikes feature forks that allow adjustments in travel for greater versatility. Such models will enable you to lockout and switch the suspension back on depending on the terrain.
How do I determine if a wheel I bought is true or not?
Turn your mountain bike upside down, rest it on the handlebars and the saddle, rotate each wheel, and carefully observe them. If the wheel appears not to be centred and wobbles right or/and left, then the wheel isn't true and demands to be trued.
Wrapping Up
After going through our comprehensive review article, you now have a handy selection of the Best Cube Mountain Bikes on the market. Some like the Cube Aim are ideal budget options, while others like the Cube Stereo 150 will undoubtedly need you to break the bank.
Even so, there has to be one Cube Mountain Bike that suits you best in terms of features, price, etc. Therefore, you only need to pick one that ticks most of your preferences and get your Cube Mountain Bike now!